I dunno if y'all have seen the garbage fire that has been happening around Modcloth lately, but in case you haven't, the bottom line is, Modcloth have been sold off to Jet.com, who are owned by Walmart. People are not happy, because Walmart have had some pretty serious question marks over their ethics and back in the day, Modcloth was known for being a progressive company whom a lot of women were happy to give their money to, knowing that it was a company that paid their staff well, actually catered to plus-sized customers beyond the same old drab tat many other retailers offered, and had some positive marketing strategies around women, trans folks and bodies in general. I'm not the only one who has noticed that sliding downwards over the past couple of years or so – the first death knell was their BIZARRE decision to remove the term "plus-size" from their online store and mix in the considerably smaller amount of plus-size stock in with the rest. Which for me, meant that I had to wade through endless garments that I was excluded from to find the small percentage that did come in my size. I'm sure I'm not the only one who found Modcloth much harder to shop with as a plus-size woman after that bizarre decision.
Since the sale of Modcloth to Jet.com, there have been allegations from former and current staff that the CEO, Matt Kaness, has had some concerning attitudes towards plus-size customers. The most telling of which is the disapproval of using plus-size models, either on their own or with straight sized ones, as plus-size models are not "aspirational".
Can we please, PLEASE kill that belief right now? That plus-size models are not "aspirational"? And that "aspirational" means "thin"? Because I don't know about you, but insisting that I would never inspire to be like any plus-size woman is complete and utter bullsh!t.
Aspirational does not equal thin. I know, I know, marketing executives and diet companies have been trying to force that on women for decades, but it's not actually what the vast majority of women really aspire to. So much that it's convinced both businesses and customers alike that there is nothing else that can be considered aspirational. But I'm here to say that really, most of us aspire to SO MUCH MORE than thinness. We aspire to happiness, success/talent (in many forms – career, education, creativity, family…), friendship, love, style, kindness, compassion, intelligence… I could go on and on. All of those things are achievable regardless of your size and/or weight, but because there is money to be made in peddling weight loss too, marketing executives have been feverishly working to convince us that the only thing we can aspire to as women is thinness.
But we are worth so much more. Women are worth so, so much more than that.
I do find fat women aspirational. Lots of them. So I thought I'd share some of them here, so that they as fat women can be celebrated and that all of you can see you can aspire to all kinds of things without having to reduce the size of your body. There are so many, but here are a few that currently hit my "aspirational" buttons.
Ashley Nell Tipton I didn't even watch Project Runway – I've followed Ashley Nell around the internet for ages now, read her blog, followed her on Instagram and seen her crop up in plus-size fashion articles being all fabulous all over the place. But I did follow the news about her on Project Runway and was SO PROUD of her for winning it and for all the things that she has achieved since. Not only is Ashley Nell living her dreams, but she's one of the most stylish women on the planet. She has a style that is so unique to her, and she's able to translate that into marketable ranges for JC Penney and Simplicity. Not to mention that she does all of this in a fat positive manner, every step of the way.
Beth Ditto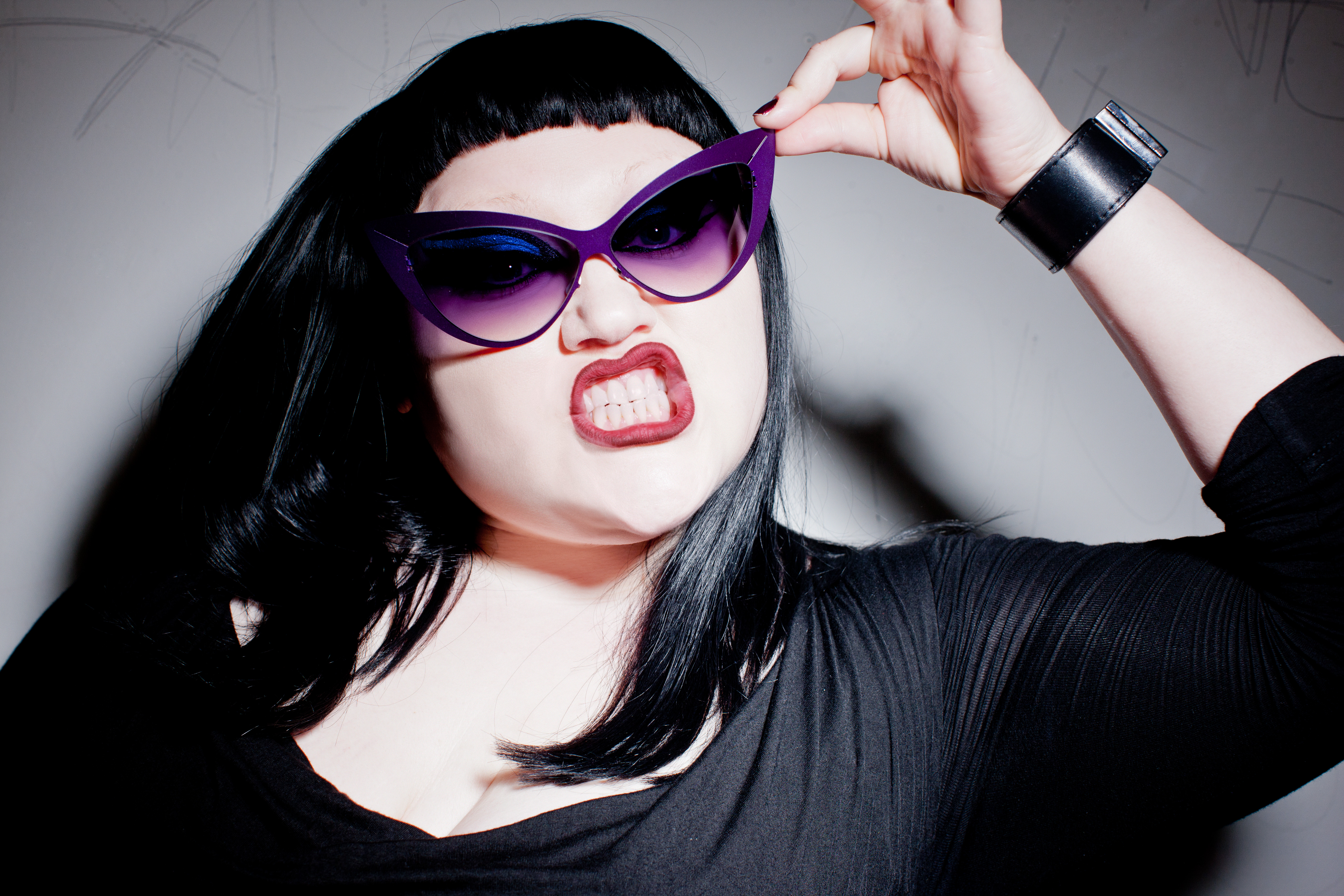 Beth has soared through the world of punk rock and straight into fashion. She has never apologised for her size – quite the opposite, she has flaunted her body proudly and created some really iconic imagery along the way. A talented singer and songwriter, and now fashion designer, she's outspoken and bold. I read her book a while back and was really struck with how she had taken a tough background and turned it into art and style and followed her dreams.
Melissa McCarthy
This woman makes me laugh. I wish I was a fraction as funny as she is. If you haven't seen Spy yet, you need to watch it, and I'm sure you'll almost rupture something laughing like I did. Watch the out-takes too – I nearly threw up she made me laugh so hard. I love that it's not funny at the expense of her fat body, but that she so perfectly inhabits her body and uses it and that wicked brain of hers to make people laugh.
Magda Szubanski
While we're on funny women, Magda has been one of my favourite funny women for decades now. Her humour is something special, she brings such depth to her characters so that you feel like you know them, sometimes you feel like you might be one of them. Again, her body is not the punchline, but she is another fat woman who is filled with life and a wicked brain.  Her public campaigning for LGBTQI rights has been inspirational. I recently read her book too, and was deeply moved by her life and perspectives. She writes beautifully.
Naomi Watanabe
OK Naomi Watanabe is hilarious too, but for me, I am blown away by her style. I LOVE the way she dresses, her makeup, everything about her look. Her fashion label Punyus is ridiculously adorable.
Amina Mucciolo aka Tassel Fairy
Amina has actually modelled for Modcloth, and I LOVED seeing her on their site. Another plus-size woman with an amazing sense of style and a mastery of colour that fills me with glee.  I have been following her blog, shop and Instagram for some time too.
Kobi Jae of Horror Kitsch Bitch
I'm proud to call Kobi a friend of mine but I also adore her sense of style. If I could find a wardrobe a fraction as awesome as the one Kobi has, I'd be a happy, happy fatty.  Kobi blogs at Horror Kitsch Bitch and I believe there is a fashion range in the making!
These are just a few of the fabulous fat women that I find incredibly inspirational. It's not hard to find inspirational fat women, and actual plus-size models (who have fat bodies, not just ones that are a couple of sizes over the usual model measurements) are both beautiful AND they showcase clothes in a way that I aspire to own and wear them. It's pointless for me to look at clothes that come in my size (26-28AU or a 4X) modelled by small bodies – those clothes aren't going to look the same on my body as they would on some tiny model. When I look at a model wearing clothes, I don't aspire to have their body, I aspire to have the clothes that they are wearing them, and wear them in a way that they are styled.
I don't aspire to be less of myself – I aspire to be more.
It's not a difficult concept, it's about bloody time those in the business of providing and selling clothing to fat women bothered to understand it.